Jimmie's Chipotle Pepper Jam

Jimmie's Chipotle Jam is made from jalapeños
grown and smoked in Mexico.

Any smoked pepper can be called chipotle but in Mexico jalapeños are used almost exclusively. There are two types of chipotle. MORITA which use the culled imperfect green jalapeños and TIPICO which is made using premium red jalapeños. Morita chipotle can be found in cans in adobo sauce. These are used to make salsa and as an ingredient in sauces. They are much hotter than the Tipico.

Premium chipotle is made from red jalapeños left on the vine to grow to a length of four to six inches and ripen to red. These red jalapeños are smoked whole in mesquite wood and are the only peppers we use to make the chipotle jams. The dried peppers are reconstituted in vinegar not water and are pureed into a fine paste called mash. This mash, cane sugar, apple cider vinegar, a little pectin make up the ingredients. There are no preservatives used.

I invented this jam as a replacement for mint jelly with lamb but everything I put it on tasted wonderful. We leave the jam loose so it is spreadable and poured over warm brie, goat cheese or cream cheese as a hors d'oeuvres it is unmatched as a quick and easy first course or appetizer. Use the jam as a glaze for ribs, chicken, salmon, scallops. Use a dollop with your eggs in the morning or in pizza. As a sauce with mustard or to give some zip to a sour cream dip. There is no limit to the creative uses. One of the best recipes comes from Laaloosh and a link to the site is provided in the recipe section. We hope you enjoy our products. Thank you.

Jimmie's Chipotle Pepper Jam
replaces mint jelly with lamb.

Serve it as a condiment with beef, pork,
chicken or fish.

Use as a glaze for ham, turkey or ribs.

Over cream cheese as an appetizer.

Free Shipping Now Included!
Create a
3 JAM ASSORTMENT
by selecting
from the pull-down menus
to the right.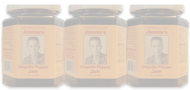 Three 12 oz. jars of your choice: $37.97
Free Shipping Now Included!
Three 8 oz. jars of your choice: $31.97
Free Shipping Now Included!
* Our Grapefruit/Ginger/Ghost Pepper Jam is prepared as a "special order."
Please allow additional time for delivery when including in your assortment.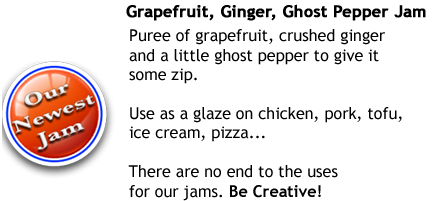 | | |
| --- | --- |
| Jimmie's Chipotle Pepper Jam | |
Jimmie's Mixed Berry Chipotle Jam
Raspberry, blueberry, blackberry
& strawberry
Jimmie's Black Currant Chipotle Jam
French and Napa Valley currants
Jimmie's Bacon Chipotle Jam
Fat-free bacon
Jimmie's Mango Habenero Jam
The proportions are 8 cups of fruit to
½ cup Habanero
Jimmie's Habanero Pepper Jam
100% fresh Mexican Habanero, sugar, vinegar and that's it.
On a 1-10 heat scale this is a 9.
Jimmie's Cherry Balsamic Jam
8 year balsamic, Saba, Tulare Cherries